Strict Standards
: Only variables should be assigned by reference in
/home2/maxmaweb/public_html/plugins/content/socialbuttons/socialbuttons.php
on line
55
Strict Standards
: Only variables should be assigned by reference in
/home2/maxmaweb/public_html/plugins/content/socialbuttons/socialbuttons.php
on line
56
Strict Standards
: Only variables should be assigned by reference in
/home2/maxmaweb/public_html/plugins/content/socialbuttons/socialbuttons.php
on line
82
Strict Standards
: Only variables should be assigned by reference in
/home2/maxmaweb/public_html/plugins/content/facebooklikeandshare/facebooklikeandshare.php
on line
367
Strict Standards
: Only variables should be assigned by reference in
/home2/maxmaweb/public_html/plugins/content/socialbuttons/socialbuttons.php
on line
55
Strict Standards
: Only variables should be assigned by reference in
/home2/maxmaweb/public_html/plugins/content/socialbuttons/socialbuttons.php
on line
56
Strict Standards
: Only variables should be assigned by reference in
/home2/maxmaweb/public_html/plugins/content/socialbuttons/socialbuttons.php
on line
82
Strict Standards
: Only variables should be assigned by reference in
/home2/maxmaweb/public_html/plugins/content/facebooklikeandshare/facebooklikeandshare.php
on line
367
Strict Standards
: Only variables should be assigned by reference in
/home2/maxmaweb/public_html/plugins/content/socialbuttons/socialbuttons.php
on line
55
Strict Standards
: Only variables should be assigned by reference in
/home2/maxmaweb/public_html/plugins/content/socialbuttons/socialbuttons.php
on line
56
Strict Standards
: Only variables should be assigned by reference in
/home2/maxmaweb/public_html/plugins/content/socialbuttons/socialbuttons.php
on line
82
Strict Standards
: Only variables should be assigned by reference in
/home2/maxmaweb/public_html/plugins/content/facebooklikeandshare/facebooklikeandshare.php
on line
367
Strict Standards
: Only variables should be assigned by reference in
/home2/maxmaweb/public_html/plugins/content/socialbuttons/socialbuttons.php
on line
55
Strict Standards
: Only variables should be assigned by reference in
/home2/maxmaweb/public_html/plugins/content/socialbuttons/socialbuttons.php
on line
56
Strict Standards
: Only variables should be assigned by reference in
/home2/maxmaweb/public_html/plugins/content/socialbuttons/socialbuttons.php
on line
82
Strict Standards
: Only variables should be assigned by reference in
/home2/maxmaweb/public_html/plugins/content/facebooklikeandshare/facebooklikeandshare.php
on line
367
Strict Standards
: Only variables should be assigned by reference in
/home2/maxmaweb/public_html/plugins/content/socialbuttons/socialbuttons.php
on line
55
Strict Standards
: Only variables should be assigned by reference in
/home2/maxmaweb/public_html/plugins/content/socialbuttons/socialbuttons.php
on line
56
Strict Standards
: Only variables should be assigned by reference in
/home2/maxmaweb/public_html/plugins/content/socialbuttons/socialbuttons.php
on line
82
Strict Standards
: Only variables should be assigned by reference in
/home2/maxmaweb/public_html/plugins/content/facebooklikeandshare/facebooklikeandshare.php
on line
367
Strict Standards
: Only variables should be assigned by reference in
/home2/maxmaweb/public_html/plugins/content/socialbuttons/socialbuttons.php
on line
55
Strict Standards
: Only variables should be assigned by reference in
/home2/maxmaweb/public_html/plugins/content/socialbuttons/socialbuttons.php
on line
56
Strict Standards
: Only variables should be assigned by reference in
/home2/maxmaweb/public_html/plugins/content/socialbuttons/socialbuttons.php
on line
82
Strict Standards
: Only variables should be assigned by reference in
/home2/maxmaweb/public_html/plugins/content/facebooklikeandshare/facebooklikeandshare.php
on line
367
Strict Standards
: Only variables should be assigned by reference in
/home2/maxmaweb/public_html/plugins/content/socialbuttons/socialbuttons.php
on line
55
Strict Standards
: Only variables should be assigned by reference in
/home2/maxmaweb/public_html/plugins/content/socialbuttons/socialbuttons.php
on line
56
Strict Standards
: Only variables should be assigned by reference in
/home2/maxmaweb/public_html/plugins/content/socialbuttons/socialbuttons.php
on line
82
Strict Standards
: Only variables should be assigned by reference in
/home2/maxmaweb/public_html/plugins/content/facebooklikeandshare/facebooklikeandshare.php
on line
367
Strict Standards
: Only variables should be assigned by reference in
/home2/maxmaweb/public_html/plugins/content/socialbuttons/socialbuttons.php
on line
55
Strict Standards
: Only variables should be assigned by reference in
/home2/maxmaweb/public_html/plugins/content/socialbuttons/socialbuttons.php
on line
56
Strict Standards
: Only variables should be assigned by reference in
/home2/maxmaweb/public_html/plugins/content/socialbuttons/socialbuttons.php
on line
82
Strict Standards
: Only variables should be assigned by reference in
/home2/maxmaweb/public_html/plugins/content/facebooklikeandshare/facebooklikeandshare.php
on line
367
Strict Standards
: Only variables should be assigned by reference in
/home2/maxmaweb/public_html/plugins/content/socialbuttons/socialbuttons.php
on line
55
Strict Standards
: Only variables should be assigned by reference in
/home2/maxmaweb/public_html/plugins/content/socialbuttons/socialbuttons.php
on line
56
Strict Standards
: Only variables should be assigned by reference in
/home2/maxmaweb/public_html/plugins/content/socialbuttons/socialbuttons.php
on line
82
Strict Standards
: Only variables should be assigned by reference in
/home2/maxmaweb/public_html/plugins/content/facebooklikeandshare/facebooklikeandshare.php
on line
367
Strict Standards
: Only variables should be assigned by reference in
/home2/maxmaweb/public_html/plugins/content/socialbuttons/socialbuttons.php
on line
55
Strict Standards
: Only variables should be assigned by reference in
/home2/maxmaweb/public_html/plugins/content/socialbuttons/socialbuttons.php
on line
56
Strict Standards
: Only variables should be assigned by reference in
/home2/maxmaweb/public_html/plugins/content/socialbuttons/socialbuttons.php
on line
82
Strict Standards
: Only variables should be assigned by reference in
/home2/maxmaweb/public_html/plugins/content/facebooklikeandshare/facebooklikeandshare.php
on line
367
Strict Standards
: Only variables should be assigned by reference in
/home2/maxmaweb/public_html/plugins/content/socialbuttons/socialbuttons.php
on line
55
Strict Standards
: Only variables should be assigned by reference in
/home2/maxmaweb/public_html/plugins/content/socialbuttons/socialbuttons.php
on line
56
Strict Standards
: Only variables should be assigned by reference in
/home2/maxmaweb/public_html/plugins/content/socialbuttons/socialbuttons.php
on line
82
Strict Standards
: Only variables should be assigned by reference in
/home2/maxmaweb/public_html/plugins/content/facebooklikeandshare/facebooklikeandshare.php
on line
367
Strict Standards
: Only variables should be assigned by reference in
/home2/maxmaweb/public_html/plugins/content/socialbuttons/socialbuttons.php
on line
55
Strict Standards
: Only variables should be assigned by reference in
/home2/maxmaweb/public_html/plugins/content/socialbuttons/socialbuttons.php
on line
56
Strict Standards
: Only variables should be assigned by reference in
/home2/maxmaweb/public_html/plugins/content/socialbuttons/socialbuttons.php
on line
82
Strict Standards
: Only variables should be assigned by reference in
/home2/maxmaweb/public_html/plugins/content/facebooklikeandshare/facebooklikeandshare.php
on line
367
Strict Standards
: Only variables should be assigned by reference in
/home2/maxmaweb/public_html/plugins/content/socialbuttons/socialbuttons.php
on line
55
Strict Standards
: Only variables should be assigned by reference in
/home2/maxmaweb/public_html/plugins/content/socialbuttons/socialbuttons.php
on line
56
Strict Standards
: Only variables should be assigned by reference in
/home2/maxmaweb/public_html/plugins/content/socialbuttons/socialbuttons.php
on line
82
Strict Standards
: Only variables should be assigned by reference in
/home2/maxmaweb/public_html/plugins/content/facebooklikeandshare/facebooklikeandshare.php
on line
367
Strict Standards
: Only variables should be assigned by reference in
/home2/maxmaweb/public_html/plugins/content/socialbuttons/socialbuttons.php
on line
55
Strict Standards
: Only variables should be assigned by reference in
/home2/maxmaweb/public_html/plugins/content/socialbuttons/socialbuttons.php
on line
56
Strict Standards
: Only variables should be assigned by reference in
/home2/maxmaweb/public_html/plugins/content/socialbuttons/socialbuttons.php
on line
82
Strict Standards
: Only variables should be assigned by reference in
/home2/maxmaweb/public_html/plugins/content/facebooklikeandshare/facebooklikeandshare.php
on line
367
Strict Standards
: Only variables should be assigned by reference in
/home2/maxmaweb/public_html/plugins/content/socialbuttons/socialbuttons.php
on line
55
Strict Standards
: Only variables should be assigned by reference in
/home2/maxmaweb/public_html/plugins/content/socialbuttons/socialbuttons.php
on line
56
Strict Standards
: Only variables should be assigned by reference in
/home2/maxmaweb/public_html/plugins/content/socialbuttons/socialbuttons.php
on line
82
Strict Standards
: Only variables should be assigned by reference in
/home2/maxmaweb/public_html/plugins/content/facebooklikeandshare/facebooklikeandshare.php
on line
367
Strict Standards
: Only variables should be assigned by reference in
/home2/maxmaweb/public_html/plugins/content/socialbuttons/socialbuttons.php
on line
55
Strict Standards
: Only variables should be assigned by reference in
/home2/maxmaweb/public_html/plugins/content/socialbuttons/socialbuttons.php
on line
56
Strict Standards
: Only variables should be assigned by reference in
/home2/maxmaweb/public_html/plugins/content/socialbuttons/socialbuttons.php
on line
82
Strict Standards
: Only variables should be assigned by reference in
/home2/maxmaweb/public_html/plugins/content/facebooklikeandshare/facebooklikeandshare.php
on line
367
Strict Standards
: Only variables should be assigned by reference in
/home2/maxmaweb/public_html/plugins/content/socialbuttons/socialbuttons.php
on line
55
Strict Standards
: Only variables should be assigned by reference in
/home2/maxmaweb/public_html/plugins/content/socialbuttons/socialbuttons.php
on line
56
Strict Standards
: Only variables should be assigned by reference in
/home2/maxmaweb/public_html/plugins/content/socialbuttons/socialbuttons.php
on line
82
Strict Standards
: Only variables should be assigned by reference in
/home2/maxmaweb/public_html/plugins/content/facebooklikeandshare/facebooklikeandshare.php
on line
367
Strict Standards
: Only variables should be assigned by reference in
/home2/maxmaweb/public_html/plugins/content/socialbuttons/socialbuttons.php
on line
55
Strict Standards
: Only variables should be assigned by reference in
/home2/maxmaweb/public_html/plugins/content/socialbuttons/socialbuttons.php
on line
56
Strict Standards
: Only variables should be assigned by reference in
/home2/maxmaweb/public_html/plugins/content/socialbuttons/socialbuttons.php
on line
82
Strict Standards
: Only variables should be assigned by reference in
/home2/maxmaweb/public_html/plugins/content/facebooklikeandshare/facebooklikeandshare.php
on line
367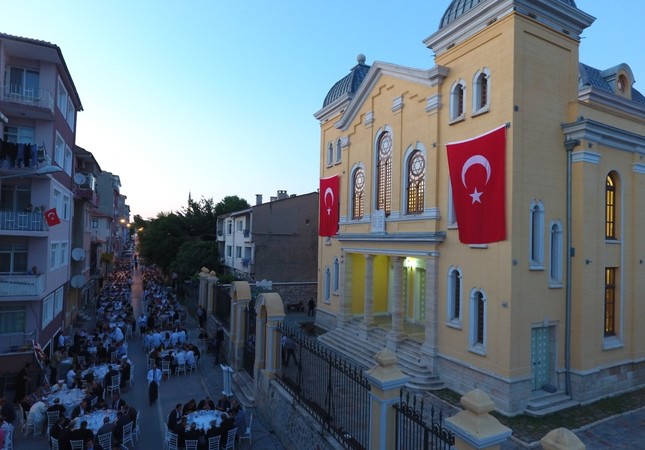 from Daily Sabah :
Edirne, a city on Turkey's European border, on Thursday hosted an outdoor iftar (fast-breaking meal) for the Muslim faithful observing the fasting month of Ramadan. What distinguished this event from other outdoor iftars was its host and location. The Turkish Jewish community, whose members were forced to leave the city in the1930s during the infamous Trakya incidents, held a banquet for Edirne Muslims outside the Great Edirne Synagogue. The synagogue, restored by the government and opened last year, has revived Jewish culture in the city, where only one Jewish family lives, hosting frequent visits from community members from other cities and a lavish wedding last month, the first in decades.
by Latheef Farook :
Veteran trade unionist turned politician Seyed Ahmed Seyed Alavi Moulana who passed away during the holy month of Ramadhan on Wednesday 15 June 2016 was buried at the Dehiwala Burial ground following day.
Discussing about Moulanaa friend of mine TilakJayasingha, Sri Lanka's former Ambassador to Palestine, reminded me that his uncle,Communist Party Trade Union Leader M.G.Mendis who later became RatgamaMP, time and again used to saythat;
This is the century old unwritten message of US. Europe, Israel and their mercenary Arab dictators to Muslims
by Latheef Farook :
A century old message of US, Britain, France, Russia, Israel and the Saudi led oppressive Arab dictators was-democracy is not for Muslims and the Middle East and North Africa should be ruled by dictators who should obediently carry out their western masters' agenda.
For example North African Muslim country of Algeria, part of the Turkish Ottoman Empire from 16th-century, was conquered by the France in 1830.
by Yvonne Ridley :
Palestinians are constantly accused of being the real obstacle to peace in the Middle East but a new initiative by a group of America's most influential Jews may just prove otherwise this week. For decades, various Western politicians have talked about a two-state solution. It has been on just about everyone's lips outside of Israel but has never really been taken seriously within the Zionist state itself.
by Rob Williams :
The world's humanitarian crisis is about to get worse. The number of refugees and displaced people is already at a record 60 million – at least half of whom are children, many bombed out of their homes and forced to flee for their lives. There are currently 37 million war-affected boys and girls who are out of school. Add to this the extreme weather events caused by El Nino that are predicted to devastate parts of sub-Saharan Africa before the end of the year, and the sheer scale of humanitarian need feels overwhelming.
by Samar Batrawi :
Gaza-based Palestinians have faced a long list of restrictions during recent years, including restriction on movement out of the 365-square-kilometre territory, which has been governed by Hamas for almost 10 years. The main enforcer of these restrictions is Israel, which controls the movement of people and goods through its borders with Gaza and Gaza's air and sea space.
by Intissar Kherigi :
Muslim women‪ are the first to pay the price for Islamophobia in Europe. That was the finding of the first European research report to be conducted on discrimination against Muslim women by the European Network Against Racism, launched in Brussels last week. The report, which covers eight European countries, focused on discrimination in access to employment, education and hate crime.
by Indrani Bagch :
The Kaladan multi-modal transit-transport system connecting India's northeastern states through Myanmar to its Sittwe port was intended to be a landmark project that would power India's links to Asean region. Signed in 2008, the project was supposed to be completed by 2013. But it's unlikely to get anywhere for at least another few years largely because the Indian government estimates of the entire project was wildly inaccurate.